The first dance as a wedding couple is something that you will always cherish. For that special dance that will help you to remember your celebration of your marriage, here that the top 30 Most Requested Songs for First Dance.
Choosing Your First Dance Song
If there is a tune that is "your song", or if you like the same type of music, this is much easier. If your tastes are quite different, or if you are adamant about having a certain song and the other person is not, in can be a bit trickier.
Rehearse your dance well before the wedding day. The song and the dance set the atmosphere of the reception. You will be starting the dancing, so you want to be sure that everyone is in party mood!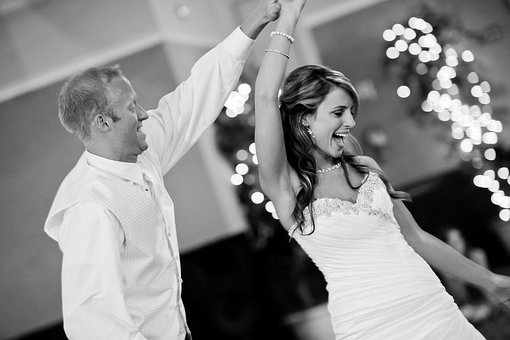 What is Popular
Popular first dance songs include Ed Sheeran and love song classics from Elvis Presley and Nat King Cole. As long as the song means something to the bride and groom, anything goes.
With a variety of artists and styles in the top 30 most requested songs for first dance, you're sure to find something.
Thinking out Loud – Ed Sheeran
You are the Best Thing – Ray LaMontagne
A Thousand Years- Christina Perri
Make you feel my Love – Adele
Everything – Mary J. Blige
Amazed- Lonestar
First Day of My Life – Bright Eyes
Lets Stay Together – Al Green
Lucky – Jason Mraz
Can't Help Falling in Love – UB40
Marry Me – Train
It is – The Goo Goo Dolls
What a Wonderful World – Louis Armstrong
Beautiful Day – U2
I Won't Let You Go – James Morrison
I'm Yours – Jason Mraz
The Luckiest – Ben Folds
Your Song – Elton John
The Way You Look Tonight – Frank Sinatra
Stand By Me – Ben E King
I don't Want to Miss a Thing – Aerosmith
Can't Help Falling in Love – Elvis Presley
First Day of My Life – Bright Eyes
Wherever You Will Go – Charlene Soraia
At Last – Etta James
You're Still the One – Shana Twain
Just the Way You Are – Bruno Mars
Marry You – Bruno Mars
You've Got the Love – Florence and the Machine
Rule the World – Take That
Choose something that is meaningful and that you both love. It will set the theme of your wedding.
The length of the wedding dance varies but is usually around 3-4 minutes long. This doesn't sound a long time – but it can be if you are not prepared! The first dance has always been a dance that is cherished and awaited by the bride and groom and the guests and shows the love between the newly married couple.
Let the top 30 most requested songs for first dance guide your choice, and you'll be set!
Check out our Melbourne Bridal Expos directory for the best wedding suppliers and events in Melbourne.